Finding the best time to post on Instagram is a golden rule for retail brands. An Instagram post at the ideal time is visible and engaging! So it's in the retailer's best interest to adapt their Instagram strategy accordingly!
Why does the time of your Instagram post matter?
Launched in 2010, Instagram is a photo sharing app that has grown over the years to include stories, videos, IGTV and Reels. With nearly 4.2 billion Internet users worldwide, including 24 million in France, gaining visibility online is not always easy!

The app has peaks of users at certain points in the day, which is a good time to post. Posting at the right time results in a better reach, a higher engagement rate and a stronger viral potential.
Evolution of the Instagram News Feed 2022 and the link to the time of posting
The Instagram teams are working on an update to the user news feed that will change the way posts are displayed on the app's home page.

Users will be able to view their feed according to chronology or their favourites, or simply keep the current layout. So the time a post is made will be crucial to retailers' visibility, which is why it's important to know when the best times are.
When should you post on Instagram in 2022?
Being able to choose when and on what day to make a post is a feature used to promote engagement on social networks. There is a lot of differing information about Instagram's algorithm.
We've looked at a range of different sources, but our article is mainly based on the 2022 Instagram engagement report by Hubspot and Mention.

One frequently cited source is Later, which claims that early morning posts are conducive to good results. The theory is that it takes time for the algorithm to properly optimise a post.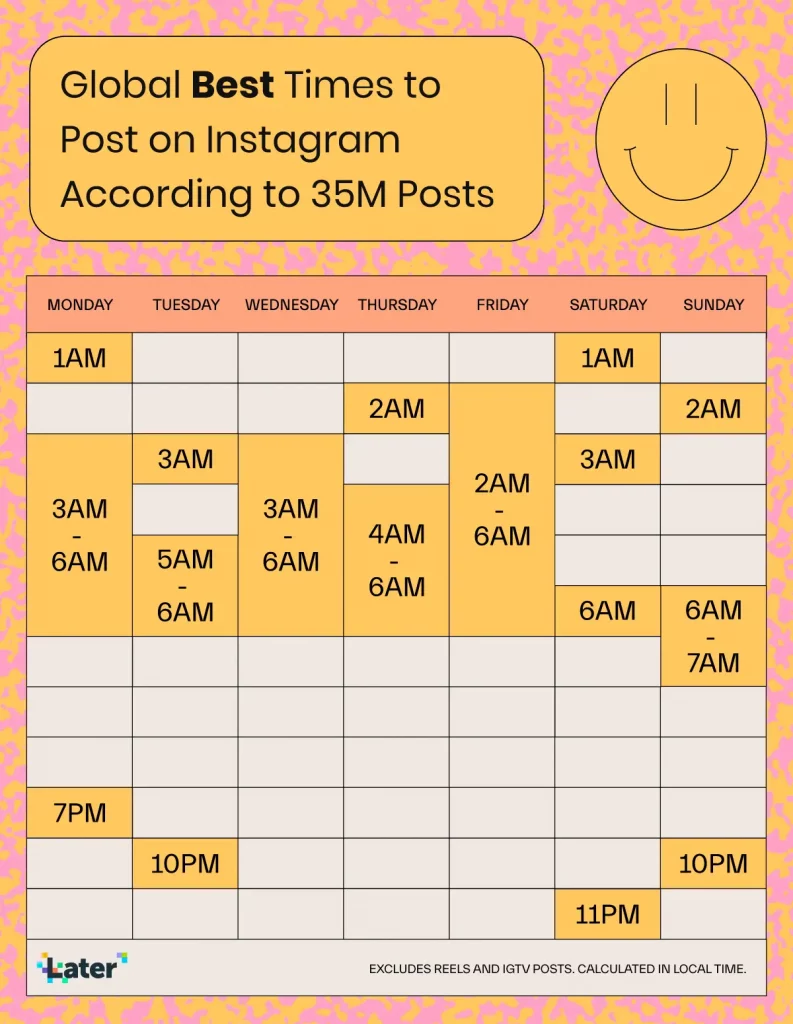 These studies have their limitations. This one, for example, doesn't include data for Reels or IGTV posts, both very popular on the platform, and the data that are included mainly cover Instagrammers in the US. So figures like this need to be considered with caution as they aren't always representative of a sector or the French market.
The best days to post on Instagram
Wednesday and Sunday seem to be the best days for Instagram posts.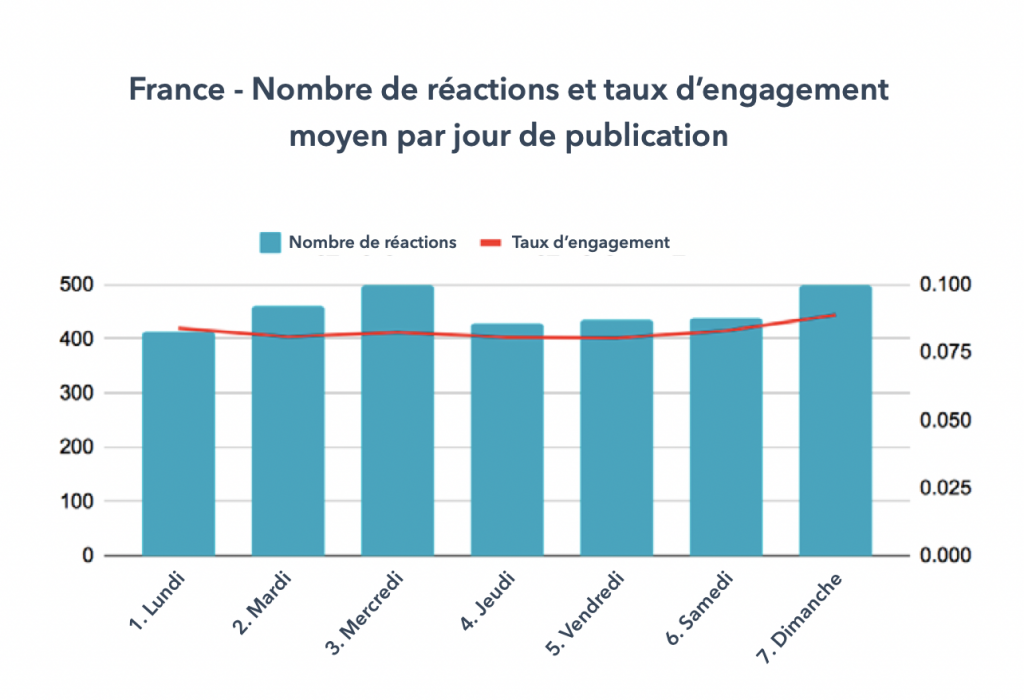 As for retailers, we advise you to give it a try. Wednesday, Thursday (and Sunday – to be tested in real life) are solid opportunities to improve performance.
The best times to post on Instagram
The 5pm-10pm slot seems to be the best time to post on Instagram. There's also a sweet spot in the morning between 7am and 8am and around lunch between 1pm and 2pm.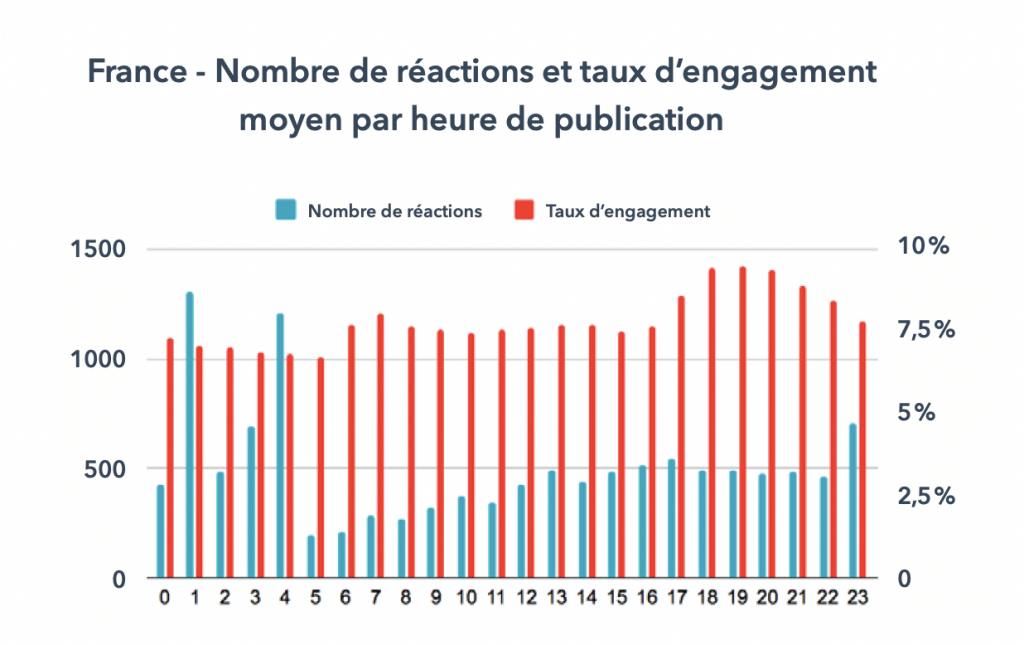 As for retailers, we advise you to post early in the morning (just before 8am) or around 5pm. Knowing the best times to post on Instagram is useful but you'll still need to be flexible with your strategy! Keep an eye on your account statistics and focus on quality (visuals, videos, text, hashtags).

Maxime, Marketing Manager at Hyperspread
The ideal time to post on Instagram would be…
Sunday and Wednesday between 6pm and 8pm. Try it out and let us know in
the comments!
Does the best time to post depend on the type of content?
Good question, but we don't have a definitive answer. According to this article, the content can make a difference to the optimal time. Videos, Reels, and IGTV seemingly perform better after lunch and at the end of the workday.

Our theory is that when users have just woken up, their energy is lower, so photos get more engagement, whereas toward the end of the day, users are looking for something more entertaining like video content.
What is the best time for YOU to post on Instagram?
Every professional Instagram account has free access to statistics about its community within the app. All you need is a pro account; go to Profile > tap the three bars at the top of the screen > Statistics > Total followers.

These numbers reflect the behaviours of your audience better than any other analysis out there.
Rules to follow for your retail network's content strategy
Posting at the right time on Instagram is good, but you have to keep in mind:
Time zones
Where do your followers live? There may be a time difference between the country the brand is based in and the one its followers live in. Schedule to avoid mistakes.
Working hours
Employees are not supposed to be on social media during working hours (so avoid posting then). This is why the ideal Instagram slots are outside of standard working hours.
Content
Before working the algorithm, think about the quality of your content.
How does the Instagram algorithm work with regard to posts?
When you post something, Instagram uses several criteria to score and rank it, including the following, related to time of publication:
Content recency
Recent posts are given priority in a user's feed. The platform views it as new and assigns it more value.
Golden hour
We see this on many social media platforms: the first hour is crucial. It indicates whether the content merits more exposure. Collecting reactions during this period is therefore very beneficial.
The best time to share a post on Instagram is probably when the majority of your followers are active on the platform.

Maxime, Marketing Manager at Hyperspread
How do you schedule an Instagram post?
Scheduling posts allows you to make the most of the best posting times. It means you can stick to the company's editorial schedule but it is also practical when working with influencers because you can coordinate your posts.

Retail networks have several pages to look after so they really benefit from a social network management tool.
Conclusion: gaining visibility on Instagram with an optimised posting strategy
Your posting time is key to a successful social media strategy. Knowing the best time to post on Instagram allows you to better interact with your audience and increase your network's visibility.

We advise retail networks to find a social network management solution so they can manage their e-reputation and the pace of their posts… Keep in mind, however, that the social network success depends above all on the quality of your content, whether visuals, captions or hashtags.

If you are a retail network and you would like to develop brand awareness on social networks, click on the link below to contact an expert.