Staci is the logistics partner for the Hyperspread marketplace, a collaboration that gives retailers the ability to design a marketplace for their network. From this space, each localoutlet can customise, download or order their marketing tools.

Staci works alongside Hyperspread to manage the supply chain (receiving and managing stock, processing orders, transport and delivery, flow analysis and recommendations). We took advantage of our close collaboration to ask Nicolas Brasset, Sales Manager at Staci, a few questions so we could gain a better understanding of Staci's core business and the importance of print stock management for retailers.

We'd like to thank Nicolas Brasset and Staci for kindly giving us their time.

Overview of Staci and its services
Maxime (Hyperspread) - Hello Nicolas, thanks so much for agreeing to the interview. Could you tell us a little about Staci and what you offer as a company?
Nicolas (Staci) – Staci is a multi-channel retail logistics company with operations in France, Germany, UK, Belgium, Netherlands, Italy, Spain and the USA. It was founded in 1989 and now handles 25 million orders a year at 65 logistics sites over an area of 720,000 m 2 , with a turnover of more than €500M.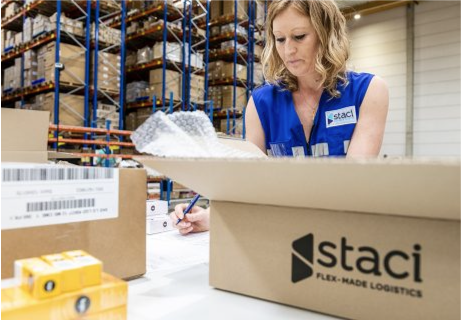 We operate in all areas of logistics and manage and distribute market and non-market products on a B2B, B2C and D2C basis. 50% of our activity is carried out on behalf of retailers and manufacturers, distributing non-market products like POS units or other marketing media, which is what we do for Hyperspread.

As a transport optimiser, we offer a full range of distribution solutions and select the best quality and prices for every one of our clients, both in France and internationally, according to the recipient, type of shipment and desired delivery time.

We also offer local storage solutions for retailers and manufacturing technicians at 250 locations across France.
Maxime (Hyperspread) - Impressive! You mentioned that Staci has been in business since 1989; have your business flows always been equally divided between your non-market products, like printing and POS units, and your market products?
Nicolas (Staci) – No, Staci was the first of its kind, logistical services for communication and marketing materials such as printed products, POS units and derivative products, and was based on an innovative concept, the Non-Market Flow Consolidation Platform.

As the business and customer demand grew, Staci developed solutions for retailers and manufacturers who needed flow optimisation solutions that would collate all product categories, such as marketing materials, print consumables, point of sale maintenance or operation paraphernalia, work clothes and office products, as well as measuring and managing consumption. In terms of value, our marketing media business has enjoyed continued growth despite the digitisation of certain types of media, particularly when it comes to advertising and promotion, where business has doubled in 10 years.

Today, 50% of our business is non-market products. The other 50% involves market products like household appliances, childcare items, toys, and connected, cosmetic, and health and hygiene products.
Maxime (Hyperspread) - What added value does Staci bring to its clients?
Nicolas (Staci) – Unlike traditional logisticians, we offer shared and customised logistics solutions that benefits each of our clients thanks to adjustable prices and no fixed costs. Our logistics sites serve between 10 and 60 customers, each with logistical resources and a budget that are adjustable to seasonality, client requirements, etc.
The partnership for stock management and the distribution of print marketing materials
Maxime (Hyperspread) - How did the partnership between Hyperspread & Staci come about?
Nicolas (Staci) – We have been working together for a number of years due to the complementary nature of our Print Management and Logistics services in the retail and supermarket sectors. The similarity of the DNA of the two companies, both experts and leaders in their field, led to our partnership with the permanent objective of providing operational excellence, a very high level of satisfaction for our clients' recipients and boosting the growth of their commercial activities.

Hyperspread and Staci are complementary in that they offer an end-to-end marketplace service, from information systems up to delivery to the end user.
We are aware of each other's expertise and the best way to promote our strengths is to work together on a number of projects to deliver excellence to the customer.

Nicolas Brasset, Sales Manager at Staci
Maxime (Hyperspread) - We often hear that print media is being left behind. What do you think?
Nicolas (Staci) – We haven't seen a decline, on the market in general or in terms of our logistical activity. On the contrary, since the pandemic we have seen a very strong recovery in sales promotion flows for point-of-sale marketing.
Print marketing remains a highly popular lever for local points of sale, who see it as a tangible, legitimate and rewarding medium. Hyperspread has found that printed media are still a valuable tool that retailers shouldn't overlook.

Maxime, Marketing Manager at Hyperspread
Maxime (Hyperspread) - What are the benefits for a retailer choosing Staci's services?
Nicolas (Staci) – We have advanced expertise in the field of retail logistics. We help our clients optimise logistical costs by carrying out in-depth analyses, particularly in terms of stock rotation and stock with no movement. Our production and transport solutions are fully customisable so we can offer an optimum quality of service and price ratio.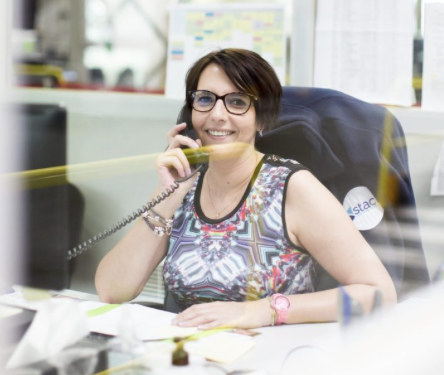 Our service as a whole is 100% customisable and multifaceted so we are able to provide dedicated, flexible and cost-effective solutions. Our mission is to support our clients in the long term and provide innovative streamlining solutions. We provide added value.

When we interface with existing solutions, as we do with Hyperspread, it's so we can guarantee a quality service to our clients. Excellence is always our ultimate goal and retailers know that they are dealing with reliable and trustworthy service providers.
Maxime (Hyperspread) - You mentioned that Staci also has a global presence; do you see any differences between France and the rest of the world regarding retail logistics management?
Nicolas (Staci) – Our international expansion was possible because of the maturity of the French market, particularly in terms of logistics solutions and the outsourcing of activities that weren't part of our clients' core business, all of which enabled us to grow internationally. Clearly, Staci has duplicated the best practice solutions it acquired in France.

For example, in 2019, when we first set up in the US, Staci won a call for tenders over six American competitors because we fully understood what the client actually needed thanks to our pooled logistics solution that enables us to manage peaks and troughs of activity while optimising budgets, whereas our competitors were offering fixed-rate solutions.

Because our information system is established worldwide, we can provide global flow analysis and reports for any country.
The future of print marketing
Maxime (Hyperspread) - How do you see the future of print marketing?
Nicolas (Staci) – For me, it has two segments: management-related, non-promotional material – for the last ten years or so there has definitely been an increase in digital media, but that brings added value via solutions such as print on demand, as offered by Hyperspread.

The second segment is sales promotion media and as I said earlier, despite digital innovations, print marketing has made a reappearance following the pandemic. Retail networks communicated much more extensively to boost their sales.

Our manufacturing logistical activities, such as those for our food and beverage clients, recovered with the same growth trend as retail logistics.
Maxime (Hyperspread) - Are there expectations from clients regarding carbon footprint issues?
Nicolas (Staci) – Yes of course, that's very frequently part of their CSR initiatives. A large number of them join information gathering platforms such as ECOVADIS in order to have online information about our CSR procedures, our performance and our commitments in this area. Staci was one of the first logistics companies to join ECOVADIS eight years ago.

Staci is very committed to all social and environmental issues and has set itself a number of objectives, including devising an exhaustive carbon footprint list so it can meet the requirements and deadlines of the environmental Grenelle law. We have long been committed to the strategy, for example by publishing our transport carbon emissions figures at the bottom of our invoices since 2015.

Of course, logistics services generate CO2 emissions, but Staci has taken a series of measures to reduce its carbon footprint, such as replacing building lights with LEDs, reducing heating levels in buildings, installing automatic heating cut-off systems, equipping all our employees with warm work clothes, using packaging made exclusively from recycled and recyclable materials, repurposing waste, using transport partners with green vehicles and who are also committed to carbon offsetting through reforestation.

Finally, our longstanding approach to pooling logistics and the consolidation of flows, orders and deliveries are very important to streamlining carbon emissions. A study carried out in collaboration with ADEME – the French Agency for the Environment and Energy Management – showed that we reduce costs and CO2 emissions by more than 23% thanks to our flow consolidation processes.
Insights with Clélia from Hyperspread
Thanks again to Nicolas Brasset for his time! We spoke to Clelia, a Product Manager from Hyperspread, to get some insights into their partnership with Staci.
Working with Staci is great, we have good discussions with the teams and we know that we are working with a trusted, legitimate and efficient partner.

Clélia Lemaire, Product Manager at Hyperspread
Maxime (Hyperspread) How does a Hyperspread client go about putting in place the Staci solution?
Clélia (Hyperspread) - Generally, clients contact Hyperspread's customer success managers who explain the model for working with Staci and arrange a meeting. Staci then assesses the needs of each client using a logistics questionnaire, submits its recommendations and provides an overview of the service and the costing. When you become a client of Staci, we hold a three-part kick-off meeting. From that point, every order from Hyperspread is sent to Staci and information is exchanged with Hyperspread in real time, including input, consumption and dispatch flows and delivery locations. We also send each other stock resupply notifications to avoid stock outs.

Would you like to know more about our solutions?
Get in touch with one of our experts.